Our Process - Before We Pave
Meet with the owner to discuss, consult, and outline the specifications for their particular project. (ie. Drainage, excavation if required, stone base foundation thickness, asphalt thickness, etc.)
Provide a detailed written quotation sheet for the agreed upon specifications. Price is NOT given on the back of a business card.
When the quote is accepted by the owner the detailed estimate sheet is signed and becomes the contract. This is to ensure there are no surprises.
The owner is given prior notice before commencing the project.
Our Paving Process
Step 1: Base Foundation Preparation
We prepare the base foundation as required, and per the agreed upon specifications. This can include:
Major excavation
minor excavation
Spot excavation
Only provide more stone to strengthen existing base foundation.
Correct any drainage problems. This may require extensive work or can be very straight forward.
All granular stone base for the foundation is thoroughly compacted with heavy vibratory equipment in multiple layers to ensure proper compaction. The area is then fine graded to provide positive drainage and compacted one last time.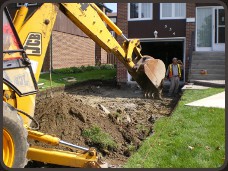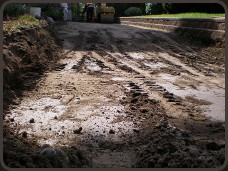 Cheaper companies avoid this at all costs. This is the construction phase that distinguishes United Paving from almost all other paving companies. We DO NOT cut corners during this phase and do the job as specified.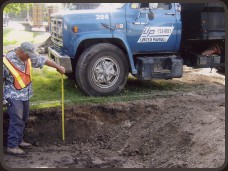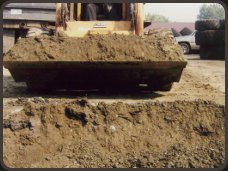 Step 2: Allow Foundation to Settle
The area to be paved is allowed to settle between two to eight weeks. This is based upon the amount of work required to bring the foundation to the proper strength. During the settlement period, the owner can use the area as per usual.
The owner is given prior notice before paving the project.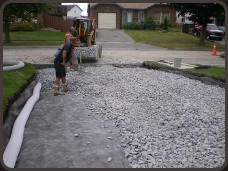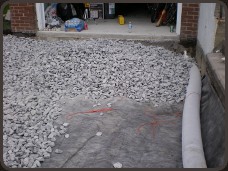 Step 3: Paving
The area is paved with a mechanical spreader to ensure proper compaction.. The asphalt is rolled with heavy equipment to the agreed upon compacted depth. This can be either 2", 3", or 4" of asphalt.
Again this is where United Paving differs greatly from many other companies who cut corners and do not keep promises. We pave with the full contracted amount of asphalt.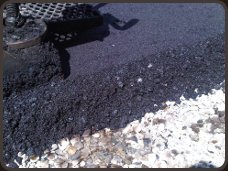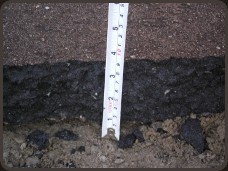 Step 4: Curing
Vehicles should stay off the paved area for 2-3 days after paving.
We provide a fair price for the premium quality of work we have become known & trusted for.
United Paving vs. The Competition
Jobs Done Right: We regularly install over 2 inches of asphalt.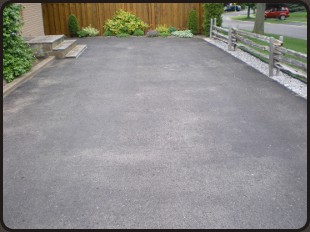 Jobs Done Right: One of our driveways, after 30 years.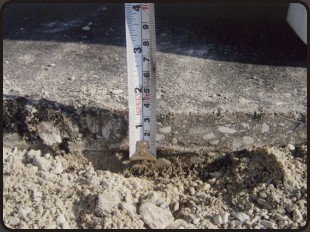 Jobs Done Wrong: This competitor promised 2 inches of asphalt, but delivered three centimetres.
Jobs Done Wrong: Another competitor's driveway, after only one year.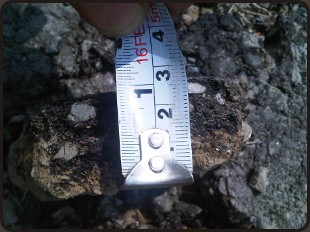 Jobs Done Wrong: A close-up of the same driveway. Note there is less than three centimetres of asphalt.